A Little History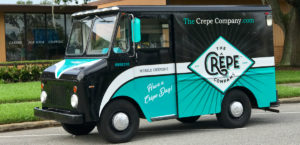 The Crepe Company, Orlando's original crepe-maker, has been serving Central Florida since 2009. Managing owner, Lisa Fareed, is a business finance graduate from the University of Central Florida.
While on holiday in France, she became fascinate with the excitement and aromas from the Parisian street vendors' carts. She stepped away from her career in finance and real estate, and opted to buy a crepe cart of her own to bring the excitement and aromas of Paris to Orlando.
Today, The Crepe Company operates crepe carts, and a food truck that provide catering and wholesale to the hospitality industry in the Central Florida area.
You will also find The Crepe Company around town serving at local farmers markets, community events and festivals.

Would you like more information on owning your own Crepe Company Franchise Territory?
For more information on our franchise opportunity, please download a The Crepe Company Franchise Kit by completing the form below. To speak with someone immediately, call 407-536-6109 and we'll connect you with our Franchise Sales Director.
This information is not intended as an offer to sell, or the solicitation of an offer to buy a franchise. It is for information purposes only. An offer is made only by a Franchise Disclosure Document (FDD). The Crepe Company franchises will not be sold to any resident of any state until the offering has been exempted from the requirements of, or duly registered in and declared effective by, such state, and the required FDD (if any) has been delivered to the prospective franchisee before the sale in compliance with applicable law.
Currently, certain states regulate the offer and sale of franchises. In the U.S., states that regulate the offer and sale of franchises include California, Hawaii, Illinois, Indiana, Maryland, Michigan, Minnesota, New York, North Dakota, Oregon, Rhode Island, South Dakota, Virginia, Washington, and Wisconsin. If you reside in one of these states, or even if you reside elsewhere, you may have certain rights under applicable franchise laws or regulations.
Franchised by NEXT Franchise Systems | Website by James Emerson