Frequently Asked Questions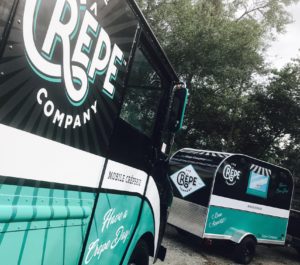 Do I need to have any prior experience in the restaurant industry to own a Crepe Company franchise?
You don't need any prior experience in owning your own business or operating a franchise business. We understand that the majority of new franchise owners do not have prior experience owning their own business. However, having a passion for business, people and amazing food is strongly recommended.

How long will I be in training and what can I expect to learn?
Our initial training program consists of approximately one week of classroom and on-site training at a company-owned market in Orlando, Florida. Your training program will include administration functions, operations, marketing concepts, customer service, personnel and other important aspects of running the day-to-day business of The Crepe Company Franchise.
In addition, our support team will be in your market for at least another five days to work directly with you and your initial staff to ensure that your opening goes smoothly and provide any additional necessary training.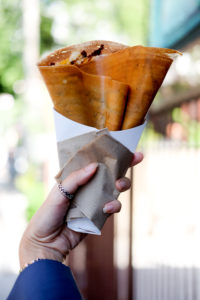 Do you offer financing?
Partial financing through a third party may be available.

Does The Crepe Company offer a multi-unit franchise opportunity?
Absolutely! We understand that you may want the flexibility to open in multiple market and have complete control of you territory. You are provided a protected territory as part of your franchise agreement. We will also provide you with a first right of refusal for adjacent territories at the time of your franchise closing.

What are the initial franchise fees and ongoing royalty fees?
The initial franchise fee is low. You will pay an ongoing flat fee royalty, and we ask that you spend a percentage of sales on local advertising.

Where should I open my Crepe Company franchise?
We will work with you to locate a suitable market for your franchise. There are many factors that can affect success, and will help you identify a market within our guidelines, but ultimately, the decision where to open is yours.

How long will it take to open my franchise once I have signed the franchise agreement?
You should expect to open within 60 to 90 days after the signing of your agreement.

Will you help me with my initial marketing strategy and grand opening?
Yes, of course. Your success is our success. We will assist you with all aspects of your opening, and we will be there to support you.


Would you like more information on owning your own Crepe Company Franchise Territory?
For more information on our franchise opportunity, please download a The Crepe Company Franchise Kit by completing the form below. To speak with someone immediately, call 407-536-6109 and we'll connect you with our Franchise Sales Director.
This information is not intended as an offer to sell, or the solicitation of an offer to buy a franchise. It is for information purposes only. An offer is made only by a Franchise Disclosure Document (FDD). The Crepe Company franchises will not be sold to any resident of any state until the offering has been exempted from the requirements of, or duly registered in and declared effective by, such state, and the required FDD (if any) has been delivered to the prospective franchisee before the sale in compliance with applicable law.
Currently, certain states regulate the offer and sale of franchises. In the U.S., states that regulate the offer and sale of franchises include California, Hawaii, Illinois, Indiana, Maryland, Michigan, Minnesota, New York, North Dakota, Oregon, Rhode Island, South Dakota, Virginia, Washington, and Wisconsin. If you reside in one of these states, or even if you reside elsewhere, you may have certain rights under applicable franchise laws or regulations.
Franchised by NEXT Franchise Systems.